Donald Frisch gives us an inside look at how the Missouri Botanical Garden approaches the human dimension through therapeutic horticulture programming.  Mr. Frisch is a registered Horticultural Therapist, and the Therapeutic Horticulture Programs Coordinator at the Missouri Botanical Garden.  He has worked for the Missouri Botanical Garden for over seven years.
" Part of the mission of the Missouri Botanical Garden implores us, as employees of the [Missouri Botanical] Garden, to share our knowledge about plants and their environment in order to preserve and enrich life. The Garden achieves this in many ways through a variety of different avenues throughout the world. One of the avenues we use to share our knowledge within the St. Louis area is through our Therapeutic Horticulture program.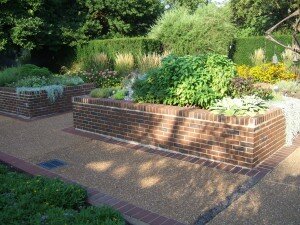 Zimmerman Sensory Garden: Raised beds – Photo courtesy of Donald Frisch
Therapeutic Horticulture, as defined by the American Horticultural Therapy Association, "is a process that uses plants and plant-related activities through which participants strive to improve their well-being through active or passive involvement. In a therapeutic horticulture program, goals are not clinically defined and documented but the leader will have training in the use of horticulture as a medium for human well-being." By using horticulture in a therapeutic setting we are able to help the participants work toward their personal goals as they learn about and interact with plants.
We offer programming opportunities either at the Garden or at an offsite location. The therapeutic horticulture programs that are facilitated at the Garden have a combination of indoor classroom and the Zimmermann Sensory Garden, our outdoor growing space. In this garden space participants assist with the planting, weeding, watering, harvesting, mulching, etc…. as needed throughout the growing season. This garden space offers a variety of planting heights and depths such as raised beds, various sized containers, and ground level beds, to meet the needs of all ability levels of the participants.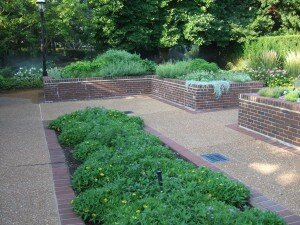 Zimmerman Sensory Garden: Ground level bed – Photo courtesy of Donald Frisch
We also facilitate outreach programs in the St. Louis community for those people that may have difficulty visiting the Garden. At those locations, depending on the desires of the facility, we offer a wide range of indoor and outdoor programming.
Considering the public nature of our garden we have the opportunity to collaborate with a diverse group of participants. Some of the populations we have had the pleasure to work with include but are not limited to Senior living facilities, children and adults with developmental disabilities, children and adults with visual impairments or blind, women's crisis center, and cancer support and recovery.
It is our hope that our continued plant and people focused Therapeutic Horticulture programs will continue to enrich the lives of the participants in our community and beyond. "
— Donald Frisch, HTR, Therapeutic Horticulture Programs Coordinator
 Have questions or want to learn more about the Missouri Botanical Gardens' therapeutic horticulture programs?
Contact Donald Frisch at: Donald.Frisch@mobot.org